How to Remodel a Shed: Re-Do Yours in 5 Steps
How do you refurbish an old shed?
Plan out what you want ahead of time to avoid impulse purchases
Start with cosmetic changes like a fresh coat of paint
Think about added storage solutions (like shelves & lockers) to reduce clutter
Are you tired of your shed being an eyesore, but reluctant to get a new one because it still does the job? Planning shed upgrades is a great way to revive an old shed that works but needs some help reclaiming its curb appeal. Plus, this is the perfect project if you're working to upgrade your backyard and increase your property's value.
Wondering how to remodel a shed and where to start with your old shed renovation? We've broken it into five easy steps so you can spruce up your shed up in no time!
1. Make a Plan for Your Shed Upgrades
Start by assessing your outdoor space and asking yourself the following questions:
What do I like about my space?

What do I dislike about my space?

What is my goal for this space? (Storage, man cave or

she shed

, hobby space, etc.)

What is my maximum budget for this project?

What DIY skills do I have or who can I ask for outside help?
By taking the time to answer these questions, you can decide how big of a project this will be and what you're willing to undertake. Plus, when you take time to plan your outdoor space for both short- and long-term projects, you're more likely to complete them and end up with the yard of your dreams.
2. Clean and Organize Your Existing Shed
Now that you have your goals in mind, it's time to clean and organize your shed. First, start by moving everything inside of your shed out and taking inventory of what you own.
Over time, you probably forgot about items inside the shed, so this step is important. It allows you to see what you already have so you can plan for any future purchases of garden tools, hardware, storage solutions, furniture, and supplies. Once everything is moved out, you're ready to clean the inside of your shed.
How to Clean the Inside of a Shed
Fill a bucket with warm water and some mild detergent.

Dip an old rag in the water and make it damp.

Inside your shed, wipe away any cobwebs, dirt stains, and dust on the ceiling and walls.

Grab a broom and sweep the floor to clean up spills or dirt.

Keep an eye for any loose floorboards that may need immediate repair.

If your shed has windows, take time to clean them with a glass cleaner.
Dealing with Mildew and Mold In Your Storage Shed
Over time, it's possible that issues with dampness have created mold and mildew in your shed. It's important to clean both up right away so you can prevent the wood in your shed from being damaged.
Find a mask and gloves you can wear while cleaning. Breathing in mildew and mold can aggravate allergies or asthma and irritate your lungs.

Select a cleaner at your local hardware store or mix up your own.

If you decide to make your own, mix 1 cup of bleach to every gallon of water. Then pour the mixture into a spray bottle or garden sprayer.

Apply your cleaner and then scrub the shed with a sponge to remove mold and mildew.

After it's removed, use a hose or scrub down the shed with clean water to remove any residue.
Once you finished doing all of this your shed should be neat and tidy inside, ready for your remodeling work.
3. Start Your Renovation
After completing the prep work, it's time to start the fun part of your project — renovating! Now it's time to choose what changes you want to make to your shed.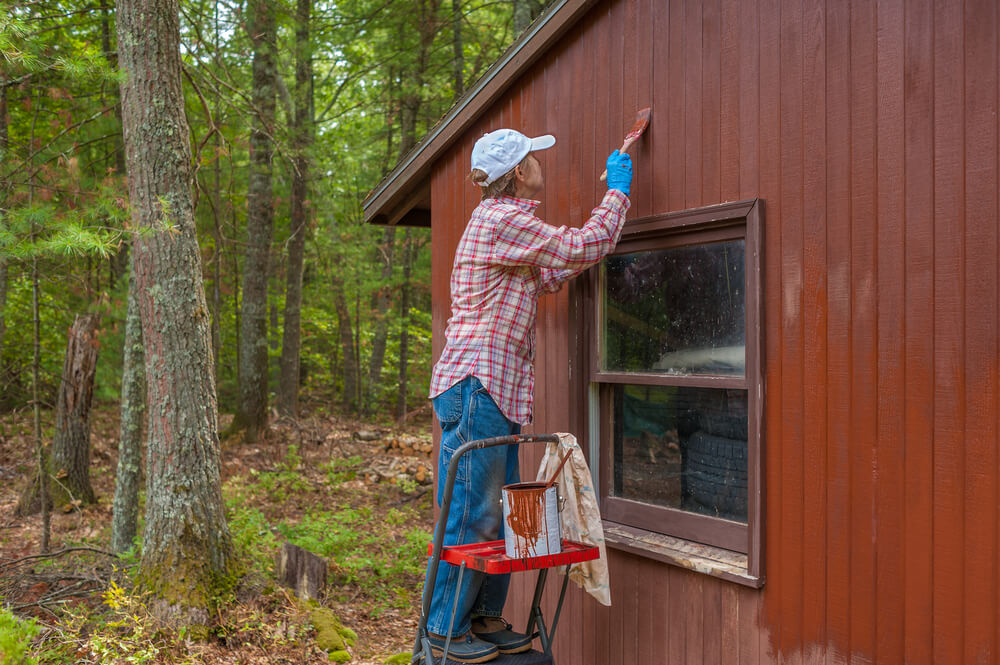 Cosmetic Changes
Some of the easiest ways to refresh the outside of your shed include:
Adding a fresh coat of paint

Installing new siding

Putting on new trim
Your shed exterior will already start to look like new with just those simple changes. And if you're looking to go one step further, consider planting a garden around your shed to turn it into a beautifully landscaped area.
Storage Solutions
Now it's time to work on the interior. Consider what you'll be keeping inside and start to buy or build shed shelves that will be the right size for storing your items. Don't forget you can also maximize space inside and hang items from the ceiling as well.
Shed Add On Ideas
Once the main renovations are complete, consider adding some decorative finishing touches to your shed to add character and charm. A shed cupola adds a point of interest to your shed. Or consider placing a weathervane or finial on top of the roof to personalize it to match your style.
Need some help with your shed remodeling or looking to add that special decorative touch? Browse our selection of beautiful backyard structures and additions to see how we can help you bring your backyard vision to life.