What's the Difference Between Arbors, Pergolas, Gazebos, and Pavilions?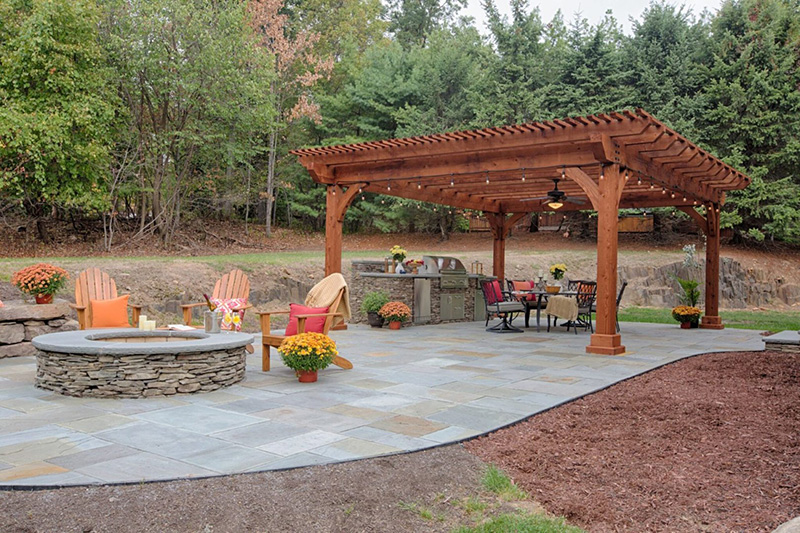 You have a lot of options when choosing an outdoor shade structure that also adds beauty to your backyard. Great choices for offering shade include arbors, pergolas, gazebos, and pavilions. Homeowners often confuse these similar structures, so use these clues to help you tell the difference and choose the right one for your home.
What is the Difference Between an Arbor and a Pergola
?
An arbor and a pergola are not the same structure. They are similar and can be mistaken for each other because they both are designed with a lattice framework (wood or vinyl strips that create a grid with a square or diamond pattern). But there are also some key differences, mainly in how they are used in your yard.
Arbors
Arbors are designed with sides formed from lattice and often have an arched top. Arbors are often used to add shade or decor along walkways or paths or to designate the entry point into a garden or backyard. They are also very popular at outdoor wedding venues because their lattice framework is perfect for decorating with climbing plants or vines.
What is the Purpose of an Arbor?
Arbors can help lead people down a specific path. They can be used at weddings or other backyard events, but can also be year-round fixtures to discourage guests and children from trampling garden beds.
Pergolas
While an arbor is a smaller structure, pergolas tend to be much larger outdoor shade structures. They include a lattice-style roof that is supported by posts and are used to cover and define larger areas, including entire patios or outdoor seating areas. They provide sun protection through the roof grid and through the addition of shades or canopies.
What is the Purpose of a Pergola
?
Pergolas are great for separating outdoor spaces and creating a shady area to sit. Their posts also enable you to hang plants, lights, and decorations. Additionally, you can create unique outdoor spaces including kitchen pergolas.
What's the Difference Between Gazebos and Pavilions?
Gazebos and pavilions are commonly mistaken for each other because they have similar designs with solid roofs. However, they do have a few notable differences, read below to see the pavilion vs gazebo differences to consider before purchasing.
Gazebos
Gazebos are outdoor shade structures with a solid roof and partially open sides, that can even be screened in. A gazebo can have a built-in floor or can be placed on a concrete base. The most telling feature of gazebos is their shape. They are typically shaped as an octagon or oval, but there are some rectangular designs as well.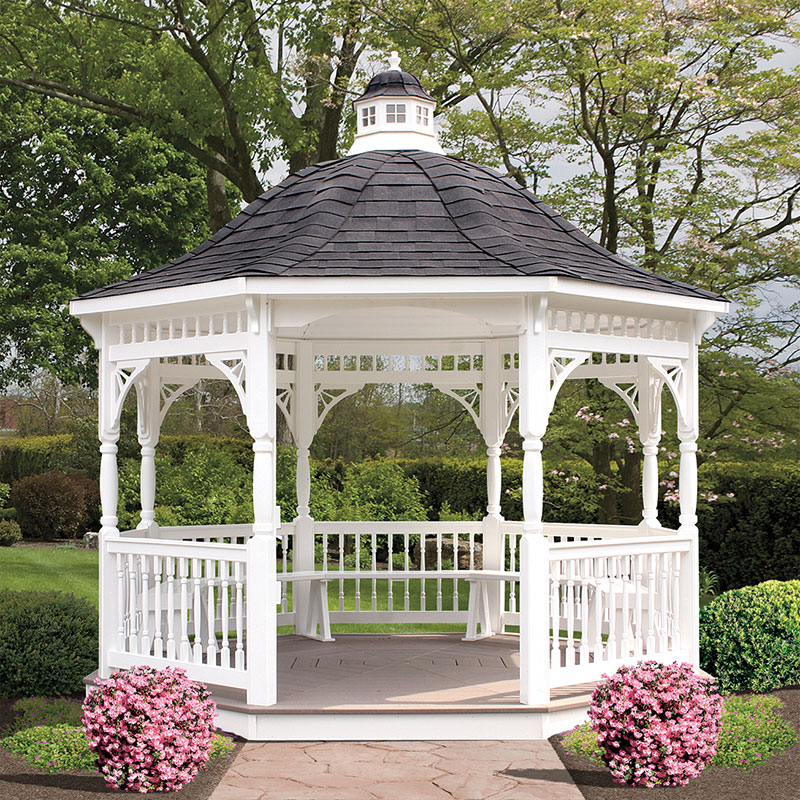 What is the Purpose of a Gazebo?
Gazebos are backyard centerpiece that can be decorated for outdoor celebrations like reunions and weddings. They can provide a great deal of shade in a sunny yard. They also can fill in an empty landscape from an architectural perspective.
Pavilions
Unlike a gazebo, a pavilion is a roofed structure with completely open sides and no built-in floor. The roof is typically supported by 4-6 posts or more, depending on the size, and they are most commonly attached to a deck, paver patio, or concrete base. While many gazebos are octagonal or oval, most pavilions are designed to be long and rectangular. Additionally, while a gazebo is more of a self-contained structure, pavilions are commonly used to provide a roof for a patio or seating area below.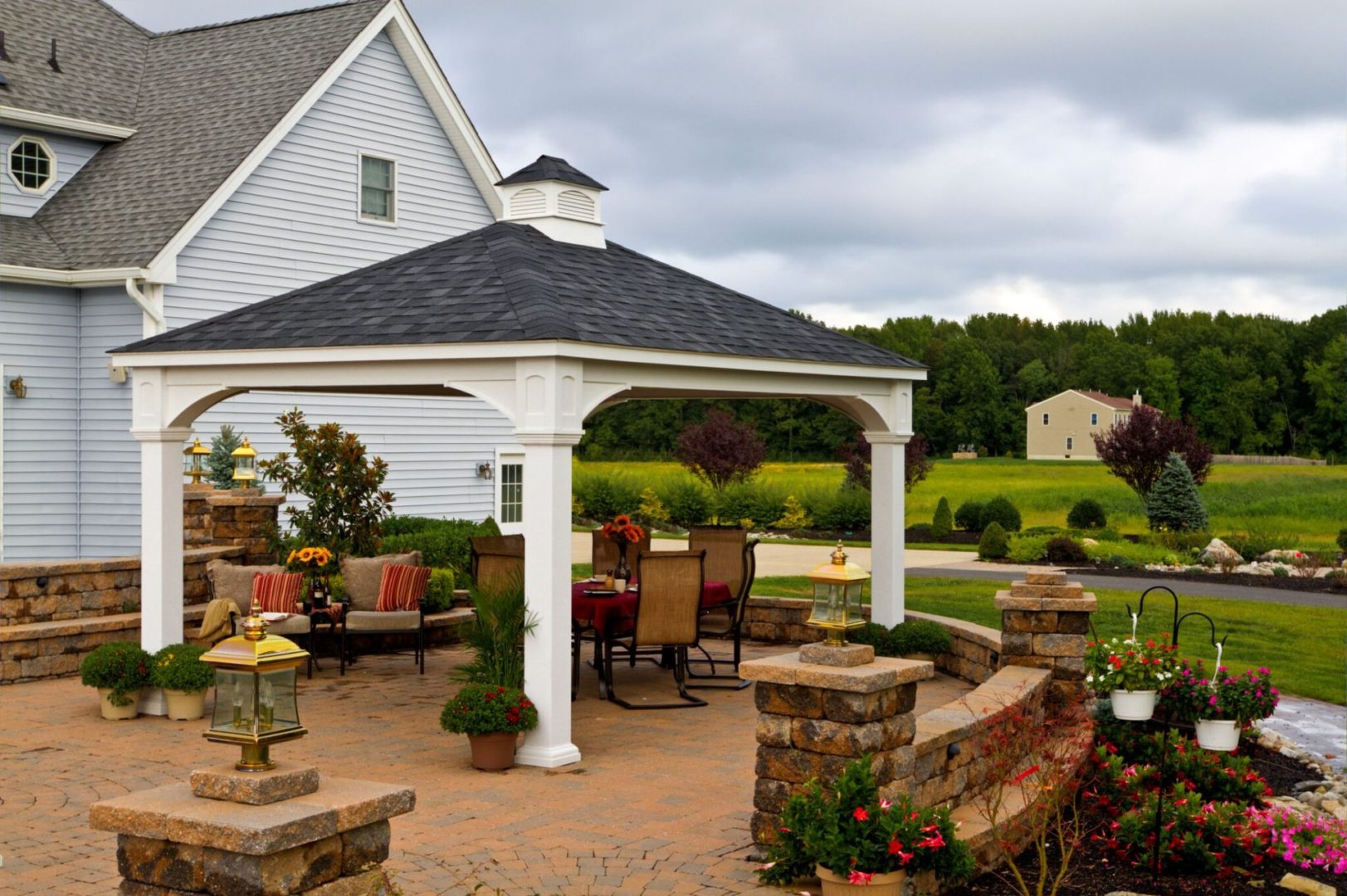 Pavilions can also be confused with pergolas. When comparing these two structures, the roof is key to identifying the right structures. Pavilions feature a completely closed roof while a pergola's roof is constructed of open slats.
What is the Purpose of a Pavilion?
Pavilions offer many of the same benefits as gazebos but are less visually intrusive. They are a good option if you want to keep the eye line clear across your landscape.
---
Ready to Add An Outdoor Shade Structure
Penn Dutch Structures offers a wide variety of Amish-built outdoor shade structures perfect for any backyard. Explore our gazebos, pavilions, gazebos & more below.
This blog was updated on 2/4/2020.