Everything You Should Know About Creating an Outdoor Kitchen Pergola
Pergolas are great additions if you're looking to add shade to your backyard, but they have other great uses too. Outdoor kitchens have become increasingly popular, and as a result, people are finding that using pergolas can make their kitchen designs even better.
In this blog, we'll share tips to consider when building your outdoor kitchen pergola as well as some design ideas that you can use for inspiration.
Skip Ahead:
6 Pergola Outdoor Kitchen Design Tips
Creating a pergola kitchen can greatly increase your home's curb appeal and upgrade your resale value. Knowing the right things to look out for before and during your design process will ensure your project goes smoothly and guarantees you end up with the space you deserve.
Below, we've provided some helpful tips you can keep in mind when planning your outdoor kitchen designs with pergolas.
1. Research Outdoor Kitchen Pergola Types
Outdoor kitchens are becoming more popular, but before you decide on how you want your outdoor kitchen pergola to look, you need to do some research. You want your space to be aesthetically pleasing, but also functional.
In order to create the ideal outdoor cooking environment for your home, you'll want to consider a few key elements such as your lifestyle, budget, and space. Try asking yourself, do you want a fully functional kitchen or a simple setup for occasional use?
Once you determine what type of pergola kitchen space you want and/or need, you'll be able to decide which amenities are essential and if your budget and style allow you to add some extra elements. Your setup can be as luxurious or simple as you'd like, it all depends on what you want to get out of it.
2. Evaluate Your Space
Space is a very big determining factor in your pergola kitchen design. You have to be realistic and strategic when you're planning your layout. You'll want to measure the entire space you plan to build your outdoor kitchen.
Knowing rough measurements will help you prioritize which accessories you need and which ones you can do without. If you live in a smaller area, you may want to consider attaching your pergola to your house. This will open up the area and ensure you aren't wasting any space.
3. Consider Portable & Permanent Options
Oftentimes, if you're planning on building an outdoor kitchen under a pergola, you're expecting it to be a permanent piece of your home. However, if you're renting your home, you can still take advantage of creating a great outdoor dining experience.

There's a variety of portable and permanent options available for outdoor kitchen pergolas. For example, if you don't plan on moving anytime soon, you can build permanent counters, barbeque islands, or ovens. If you want something less permanent, try pairing a standalone grill with a portable cart that acts as a counter, or use a barbeque island that rolls.
4. Determine Your Cooking Style
Since your pergola kitchen is most likely the second cooking space you'll have, you get to choose what your preferred cooking style will be. Do you prefer grilling fish or burgers? Maybe you would enjoy having a brick oven to cook pizzas. You might even want a tandoor oven or outdoor smoker.
No matter what your preferences are, you want to make sure your design can accommodate your desires. Outdoor grills can range from gas, propane, electric, or even charcoal. You'll also want to consider how you'll be preparing your meals.
Do you plan to prep indoors or outside? If you're planning on doing everything outside, you'll probably want to install a sink and proper counter space. Think about some of your favorite outdoor meals and ensure your space allows you enough room to cook, serve, and entertain your friends and family.
5. Think About Your Environment
When designing your outdoor kitchen pergola, you need to be aware of where you're located. If you're somewhere that's warm most of the year, creating a larger pergola kitchen and dining area is more appropriate.
Living somewhere that gets cold in the winter months doesn't mean you shouldn't build an outdoor kitchen, it just means you need to be smart about your design. If you don't plan on using your outdoor kitchen year-round, you may want to settle for a smaller area. You'll also want to consider where you choose to place your pergola kitchen. Avoid areas that are too windy, hot, or cold.
6. Commit to the Upkeep
As mentioned above, knowing your environment is important, not just for your design but also so you can be prepared for the maintenance involved. Outdoor kitchen pergolas are great additions to your home, but they do require upkeep.
Before you build your pergola kitchen, you need to be committed to the work required to keep it looking good. This means taking the proper steps for protecting your outdoor furniture during the Winter and then preparing your patio space for the Spring.
You'll need to do some research depending on what materials you choose to use. Keeping up with any repairs will ensure your space continues to look new and ready for any guests you wish to entertain throughout the year.
Pergola Outdoor Kitchen Designs Ideas
Once you have done the necessary research and planning for your outdoor kitchen pergola, it's time to start designing your space. Choosing the correct materials for your design depends on the maintenance required as well as your personal taste.
Below, we've outlined three popular designs of pergola kitchens and shared the different materials you can use to complete your dream outdoor kitchen space.
Contemporary
If you're going for a contemporary or minimalist kitchen design, you'll want to consider using slate or cast-concrete tiles for your flooring options. These tiles are great choices for an outdoor kitchen because they're made to withstand natural elements and they present a modern, sleek look.
Concrete, stainless steel, or granite are the perfect choice for contemporary styled outdoor kitchen countertops. These materials are stylish and all three are durable and effective, however certain surfaces, such as concrete, may require more upkeep than others, like granite.
Using a vinyl pergola may be the best option for you when creating a contemporary look. Vinyl pergolas don't require much maintenance, and they allow you the options of different colors and styles.
Tuscan
To create a Tuscan or Mediterranean-style outdoor kitchen, you should try using tumbled pavers, unhoned travertine, or stone-textured stamped concrete for your floors. These materials will give you the look of a Tuscan patio while still being highly durable and requiring little maintenance.
Tile, quartz, or wood are all materials that fit into a beautiful rustic aesthetic for your countertops. Using tile provides you the opportunity to incorporate different patterns for a more eclectic look, while wood and quartz guarantee a clean, natural appearance.
When creating a Tuscan-style outdoor kitchen consider purchasing a wood pergola. These can come in a variety of stains and finishes. Using wood will allow you to keep the natural and rustic aesthetic you're trying to achieve. 
If you still do not know what pergola material is best for you, read our guide on how to choose between vinyl and wood pergolas.
Traditional
Choosing a traditional, old-English design means embracing darker flagstones or brick for your flooring. You could also consider using exposed aggregate concrete or cobblestone-stamped concrete. These materials are highly functional and are guaranteed to bring some timeless charm to your outdoor space.
Porcelain, stone, or marble will provide your outdoor space with elegant and classy countertops. These materials work well outdoors because they're known for their durability and can withstand most weather conditions year-round.
Traditional spaces give you the opportunity to use either wood or vinyl pergolas. Depending on your personal style, you can determine which pergola material better suits you and your home.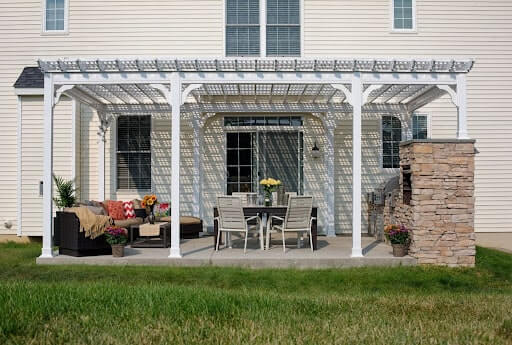 The important thing to remember is that no matter how you choose to style or design your outdoor kitchen pergola, there's no doubt the addition will benefit you and boost your home's curb appeal. 
---
Create Your Dream Space
Interested in installing a pergola in your backyard? Discover the variety of pergola styles we offer and begin creating your dream space today.