Garden Arbor Ideas & Tips: Adding a Landscaping Arch
Your garden or outdoor space is your sanctuary, and creating your dream garden is an essential part of being a homeowner. Maybe you're considering adding more shade to your backyard,  your garden, or even thinking about adding an outdoor structure to bring it to the next level. Whatever you're thinking we'll review some unique garden arbor ideas for you to use in your backyard and give you some tips on how to get started.
Skip Ahead:
What is an Arbor
?
A garden arbor (also known as a garden arch) is typically an outdoor structure that consists of 2 or 4 posts with a slatted roof. While it may seem similar to a pergola, an arbor is a much more narrow and confined structure (typically close in size to the width of a pathway) intended solely for decorative purposes.
Specifically used in landscaping and gardening, outdoor arbors have an open framework that can support vines or flowers. The sides are usually open or covered with a lattice or trellis. This helps to hold climbing vines and plants.
Differences Between Trellises, Arbors, and Pergolas
When it comes to outdoor accents for your garden or backyard, it can be hard to distinguish the difference between garden arches, trellises, arbors, and pergolas. Though often mistaken for one another, they have different purposes.

While arbors, arches, and trellises are more decorative elements that can be used as garden accents, pergolas are larger structures intended to provide shade over an outdoor sitting area.
Picking an Arbor for Your Garden
If you're debating whether you want to pick an arbor for your garden, you may have a few questions. To help make finding the perfect garden arbor for your backyard simple, let's break down what you need to consider.
How High Should an Arbor Be?
Ultimately, the answer to this depends on your style preference and use. The main factor to keep in mind is making sure your outdoor arbor is tall enough for people to walk through. It's best to usually make sure the arbor is at a minimum of at least 6 feet tall.
The arbor you choose should be matched to scale with the rest of your garden, other outdoor structures, and any other landscaping factors. So you'll want to choose something that fits the size and scope of your yard.
What Garden Arbor Materials are Available?
Typically, you'll find arbors made of wood, plastic, or metal. Wood carries a beautiful natural look but requires a lot of maintenance and upkeep, it is important to choose the right type of wood for your arbor. Vinyl is a classic option that's durable and low-maintenance. And metal arbors also have a distinct look about them with less maintenance required than traditional wood options.
What Types of Garden Arbor Arch Styles are Available?
Aside from picking the material you prefer, another important factor to consider is what garden arbor arch you prefer aesthetically. Typically you can choose from:
Gabled:

These are arbors with a pitched roof design.

Arched

: These are arbors with an arched top.

Traditional

: These are arbors with a flat top and often include trellis on the sides.
Getting Started: Where to Place an Arbor
Once you have an arbor for your garden picked out, where do you place it? Finding the right spot is key to creating the right setting for your outdoor space. Here are some of our top garden arbor ideas for placement to consider:
At an Entrance

: Set the feeling of your outdoor area right at the start by using your arbor to create an entry point that people walk through.

As a Focal Point:

Use your arbor as the primary point of interest in your garden by placing it in the center with flowers surrounding it.

Over a Pathway

: Place your arbor over an existing walkway or stepping stones to accent your path and make it easy to distinguish.
7 Easy & Stunning
Garden Arbor Ideas
Now that you have the perfect arbor for your garden, what do you do? The possibilities are endless. There are countless ways to make your garden or outdoor space more beautiful using a simple or decorative garden arbor.
The great thing about outdoor arbors is that there is an option for everyone! Here are some unique garden arbor ideas for you to use in your very own backyard.
1. Garden Arbor with Gate
A garden arbor with a gate is a perfect way to create a grand entrance to your house, garden, or backyard. The gate also offers a sense of privacy if the only access point to your outdoor space is through the arbor. Plus, it makes entering into your space feel much more special when you or guests swing open the gate.
2. Garden Arbor with Bench
A garden arbor with a bench also creates an enchanting look to your beautiful oasis. Adding a bench under your garden arbor allows you or your guests to take a seat and admire the garden. It is more than just appealing to the eyes — it's a practical way to add seating to your outdoor space. Growing flowers and vines over the arbor will also provide you with a shady spot to stop and relax.
3. Matching Home & Garden Arbor
If you want your outdoor arbor to accentuate your home, you should consider matching the two. You can look to the roof, siding, or the outside trim of your doors and windows to help you match the correct materials.
If you're unable to create an exact match, you can also choose a material that will complement the rest of the outside of your home. (Like picking a vinyl arbor that works well with your house's vinyl siding.) You can achieve this by painting your garden arbor a certain color or keeping it natural.
4. Formal Garden Arbor
If you have put work into creating a clean-cut and symmetrical garden or landscape in your backyard, a formal garden arbor is a perfect idea for you. A simple, yet, elegant arbor will aid in making your pruned bushes and precisely placed plants look even more exceptional. And while there are lots of different types of arched garden arbors, a flat-topped one is a great way to elevate your garden and create a distinct look.
5. Cottage-Core Style Garden Arbor
Create a storybook fantasy garden by adding a cottage-core style arbor to your garden. Picture your arbor with whimsical vines climbing up the sides, paired with budding roses and other sweet-smelling flowers. For those who enjoy a dreamy-looking garden or outdoor space, this style adds a charm to your house and makes walking through your garden a magical experience.
6. Living Garden Arbor
Use different plants or trees to drape over your arbor, allowing you to create a living arbor for your garden. There are certain plants and trees such as weeping willows and weeping larches which make the perfect canopy. Covering it with lots of branches and vines will make the structure look like a piece of your garden and blend it into your landscaping.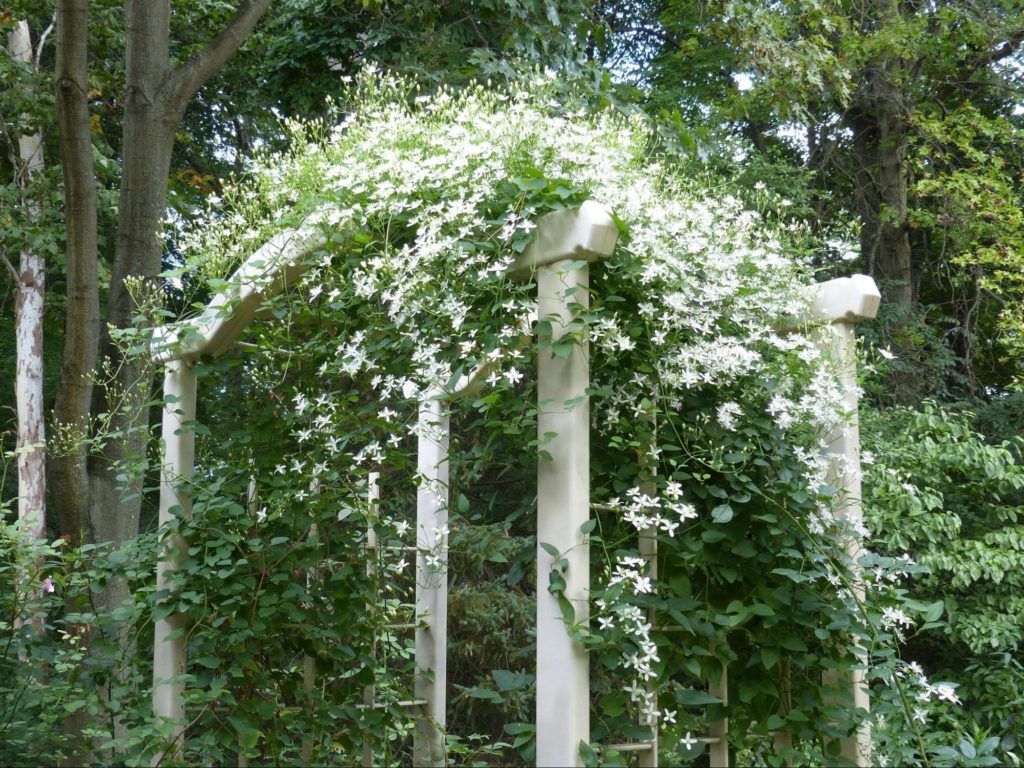 7. Garden Arbor Hedge
For those of you who have hedges on the side of pathways instead of fences, no need to fret, we have an idea for you too. Adding an arbor is a great way to give your entrance some definition as well as break up the greenery visually. It adds a nice clean-cut look and is a simple way to spruce up your home.
If you still need some ideas for your garden arbor, consider incorporating a backyard theme for your garden arbor to unify your outdoor space.
---
Need More Inspiration?
Penn Dutch Structures proudly offers a wide variety of garden arbors that will look great in any backyard.