Create a Backyard Oasis with Beautiful Outdoor Structures
We just celebrated the unofficial start of summer, and you're probably spending more of your free time outside — family dinners on the patio, socializing with friends, and playing games in the backyard. Do you find yourself looking around and wishing you could create a backyard oasis that you'd be happy to spend more time in? Consider adding one (or more) of these beautiful outdoor structures to create your own outdoor oasis.
Pergolas are the Perfect Patio Companion
A pergola is the perfect outdoor structure to take a standard backyard patio to the next level. If you're not familiar, a pergola is similar to a pavilion or arbor. It is built on four posts, but instead of a closed roof, a pergola has an open roof covered with a grid of beams and rafters.
This open grid is constructed in a way that helps to filter out the rays of the sun above providing shade to the area below. This makes pergolas a natural companion for an open patio space. Use a pergola to cover your entire patio or just a portion to create a defined space.
With a pergola, you can also add elements of whimsy to your outdoor oasis by stringing strands of white lights or by planting climbing vines and plants that will surround your pergola with bright colors and smells.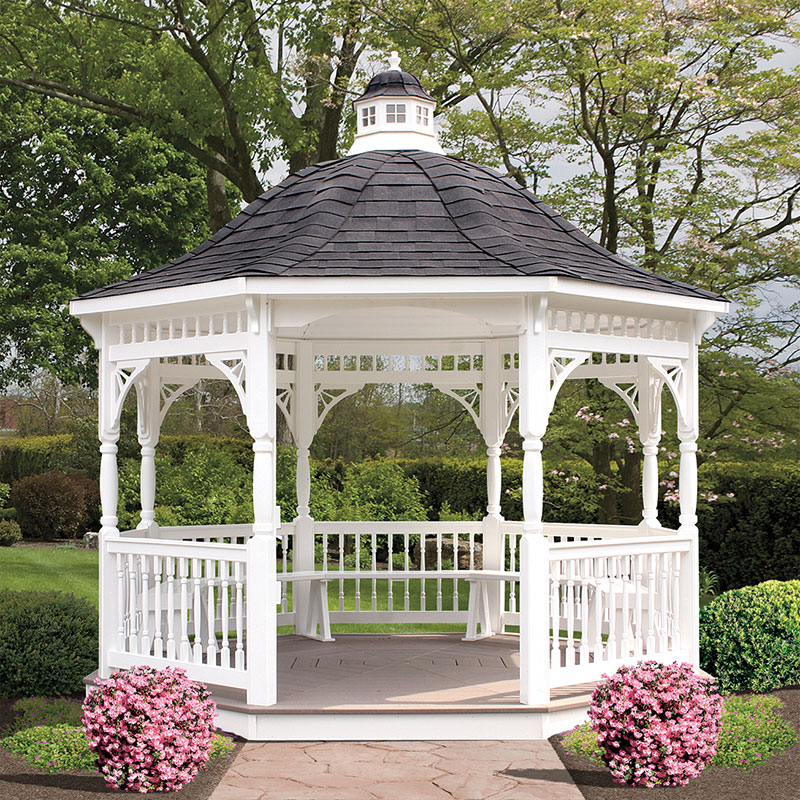 Gazebos Will Be the Center of Outdoor Entertaining
Are you looking for a place for friends and family to gather for meals? A spot for an early morning cup of coffee? Or maybe a lowly-lit space for evening cocktails? Then you might want to consider including a gazebo when you're creating a backyard oasis.
Gazebos add privacy and protection from the elements for your backyard entertaining and. Depending on their size, they can create an intimate space or a large gathering space for the whole family!
Gazebos are designed to be open-air structures, but they can also be upgraded to include screens for protection against insects or with windows that allow you to use your gazebo into the fall, even as the air turns crisp.
We have a range of gazebos available for sale that will make a great focal point for your outdoor gatherings.
Feel Young Again with A Playset Structure
Outdoor play is important for young children, as it not only builds strong bodies but vivid imaginations as well! Your family will have hours of outdoor fun when you add a new playset to your backyard.
These aren't the playsets of your youth that consisted of an aluminum frame, simple belt swings, and hot metal slides. Today's swing sets have unlimited add-ons with multiple styles of swings, slides, climbers, towers, playhouses, and fun accessories. Build your playset with activities that are suitable for the ages and abilities of your children now. You can always make additions as they grow.
Pavilion Villas Can Pretty Up Your Pool
For some people, an in-ground pool is essential in creating a backyard oasis. But with a pool comes pool supplies, pool toys, and wet towels which can create a bit of a backyard eye-sore. Adding a pavilion to your pool area provides a shady space to take a break from the summer sun or a seating area protected from the rainy weather. Additionally, pavilion villas serve a double purpose as they also provide attached interior rooms. You can use the additional space as changing rooms or storage for all your pool maintenance supplies and toys.
Want more inspiration for your dream backyard? Take a look at all of the structures that you can use to create a beautiful space all your own.