What is a Gazebo & What Are They Used For
Between pergolas, arbors, and gazebos, all landscaping structures can start to blend together. So what are gazebos? A gazebo is a freestanding outdoor structure with a solid roof that you can place in lawns or gardens. They come in a variety of shapes, sizes, and materials.
Are you still wondering what is a gazebo used for though? Broadly speaking, they're great for creating a focal point in your landscape or forming an outdoor entertaining space. They're a wonderful addition for taking photos, parties, bird-watching, and much more. Read more to learn about how you can use gazebos for different spaces or events.
Skip Ahead:
The Origin of Gazebos
This popular garden structure was first given its name in the 18th century. The name was a combination of the word "gaze" with a Latin suffix "ebo," which meant "I shall." It was an appropriate name considering that's what people enjoy doing with gazebos!
The structure itself has been around for thousands of years. Gazebos can be traced all the way back to ancient Greece and Roman times when people added them to accent their gardens and create a space to enjoy hosting people. Throughout history, they were also popular in European estates and Asian landscapes for privacy or hosting events, like tea time.
How to Use a Gazebo
Just like in the past, gazebos are still great structures to add to your outdoor space for relaxation, hosting, and more! People enjoy using gazebos as:
A gathering place for friends or family

Decoration for their landscape

Special events or ceremonies, like weddings

A

covered picnic area

Backdrops for photography shoots
And those are just a few main uses. There are plenty of more creative ways to use a gazebo.
Types of Gazebos
If you're thinking of adding a gazebo to your outdoor space, there are many different components that go into designing it. You'll need to select a gazebo material, shape, roofing material, roof-style, and any additional upgrades. Let's learn more about your options.
Gazebo Shapes
The first step to adding a gazebo in your yard is to consider the size of your outdoor living space. After you find a spot well suited for putting the structure, next you'll need to decide what shape you'd prefer.
Gazebos typically come in four shapes. You can get a rectangle, octagon, oval, or dodecagon gazebo. That last option may sound odd, but a dodecagon gazebo simply means the structure will have 12 sides. Since it has so many sides, it's typically larger. This makes it a great choice if you're looking to entertain large groups or fill a large space.
Wood vs. Vinyl Material
Once you've decided the shape, it's time to consider what material you want your gazebo to be built with. There are lots of pros and cons with either a wood or vinyl gazebo. One isn't necessarily better over the other, it's just a matter of what style you'd enjoy using more and how much maintenance you're willing to do.
A wooden gazebo has a premium, handcrafted look that beautifully accents any outdoor living space. However, over time you may need to paint it or stain it again to keep it looking like new. Wood is a sturdy option and can handle different weather conditions well.
Vinyl is also a sturdy option, and if you want a modern look, it's a good choice. However, if you live in an area with high humidity, it will likely require power washing over time. Mold can grow more easily in humid climates, and cleaning it occasionally will keep it looking nice over time.
Roofing Material
A gazebo roof can have standard asphalt shingles, rubber shingles, or cedar shingles in varying colors. Below are the benefits of each:
Asphalt shingles are:
An affordable, easy-installation option.

Offered in a variety of colors to match your home's roof.
Rubber shingles are:
A great, low-cost roofing material.

An extremely durable material that's less likely to crack in extreme weather.
Cedar shingles are:
One of the strongest, wind-resistant roofing materials.

A classic, attractive looking option.
When selecting a roofing material, it's important to think about the color just as much as the material. Be sure to ask what colors are available for each material, so that your final choice matches both your gazebo and other structures on your property.
Gazebo Roof Style
Once you have your roof material in mind, it's time to consider what you'd like your roof to look like. There are 5 popular gazebo roof styles:
Pinnacle roof

Standard roof

Pagoda roof cupola

Cupola roof

Country style roof
Including a decorative roof style on top of your gazebo is a great way to really make it stand out in your landscaping. That way, in addition to offering a beautiful view, your gazebo also offers more value as an attractive focal point.
If you want to learn more about permanent roof decorations for your gazebo, read our guide on how to choose and install the perfect roof decor.
Gazebo Upgrades
Once your gazebo design is close to being finalized, it's time to consider adding upgrades. Those extra touches can turn your gazebo into a space you and others will enjoy spending time in for years to come.
Consider if adding screens is right for your gazebo. Depending on how you plan to use it, screens are a great way to keep out bugs and pests while you and others enjoy spending time inside it. A mesh screen also will still allow for optimal air-flow inside the structure. And you'll still be able to enjoy the natural lighting as well.
Adding electricity is another great upgrade option. With electricity, you can enjoy your structure at any time. It allows you to add outdoor lighting, making it the perfect space for hosting and relaxing. Plus, you can hook up other decorative elements that require electricity, such as a small electric fountain or outdoor speakers.
Decorating a Gazebo
Once the installation is complete, it's time for the fun part — enjoying your gazebo. And one of the best ways to do that is by decorating it.
There are many opportunities to dress your structure up. If you're wondering how to decorate your gazebo for summer, there's lots of inspiration online and on our Pinterest. Some of the best tips for decorating your gazebo include adding flowers around the base or hanging them in baskets.
Also, try adding comfortable outdoor furniture and some accent pillows to create a cozy space to spend time in. Furniture is a great way for you to enjoy the gazebo and can also come in handy while entertaining guests. With just a few touches and decorative accents, you can transform your space in no time!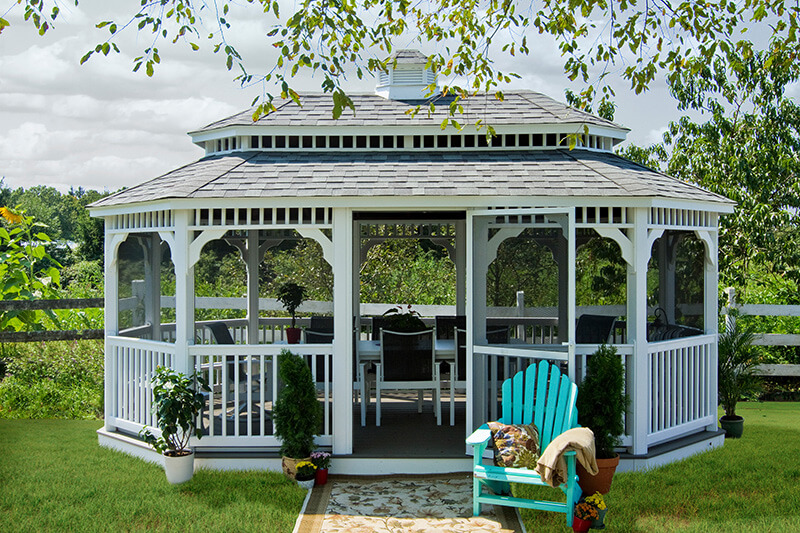 Tips for Gazebos
The best way to truly enjoy good use out of your gazebo is to make sure you properly care for it over time. There are a lot of tips for caring for a gazebo, but below are the most important ones you should add to your maintenance plan.
Clear any brush, twigs, and debris off the gazebo when you notice it building up.

Keep the gazebo clean and wash it when necessary (this is especially important for vinyl gazebos).

Rid the structure of any pest nests and webs to keep unwelcome visitors from building a home.

Inspect your gazebo and repair any damages as soon as possible when they occur.
By just establishing a routine maintenance plan, you can make sure the curb appeal of your structure lasts. With the right care, you can continue getting great use out of your gazebo for years to come!
---
Find The Right Gazebo For Your Yard
Ready to find the right gazebo for your outdoor space? Use our "build your gazebo" tool to find a design that works for you.