Types of Sheds Style Guide
Picture this: it's a warm Summer day and you're lounging out on your patio. You look out onto your yard and see a whole host of tools and equipment scattered around. You think to yourself, maybe it's time to clean things up and boost your home's curb appeal.
You can clean up your yard, boost your curb appeal, and maybe even find a new hobby to enjoy by purchasing a new outdoor shed. There are countless types of shed designs for you to choose from. We'll outline them below so you can find one that matches your home and exterior style.
Choose a Landscaping Style
Before we dive into the individual types of shed styles that Penn Dutch Structures offers, we should first look at the bigger picture. It's important to accentuate your landscaping style with a new shed, so it won't stick out like a sore thumb.
There are hundreds of different inspirations that can create your ideal backyard. So whether you're looking for a backyard filled with greenery and a lovely garden, or it's modern with clean lines or bold with different pops of color, you should find a new shed to complement your preferences.
The Purpose of Your Shed
As part of defining your landscape structure, you should also determine how you'll be using your new shed. Will it be a storage space to keep your backyard clean? Will you turn it into a she-shed or man cave so you can start some new hobbies?
A-Frame Shed
So let's dive into the different styles of shed designs you can choose from. We'll start with the A-Frame shed. There are three different types of A-Frame style sheds offered at Penn Dutch Structures. They are A-Frame, A-Frame Elite, and Garden A-Frame.
The main difference between the three of these shed styles is the size of each and the roof pitch, or the steepness of the roof. There is a roof pitch associated with all of our sheds, so let's break down what that exactly means.
The roof pitch numbers highlight how high the roof goes for every 12 inches. So a standard A-Frame shed style has a roof pitch of 5 over 12. If we compare this to the roof pitch of an Elite shed, which is 8 over 12, and then a Garden shed, which is 11 over 12, you'll see that each is slightly steeper than the one before.
The higher the roof pitch, and ultimately the steeper the roof, means there's more headspace within the shed. This is why, historically, garden sheds with steep roofs are used to store tall garden tools, and other smaller outdoor equipment.
No matter the specific A-Frame style shed you choose, you have the option between top-grade wood or vinyl as the material. Each style requires very little maintenance and is very durable to withstand a variety of weather conditions.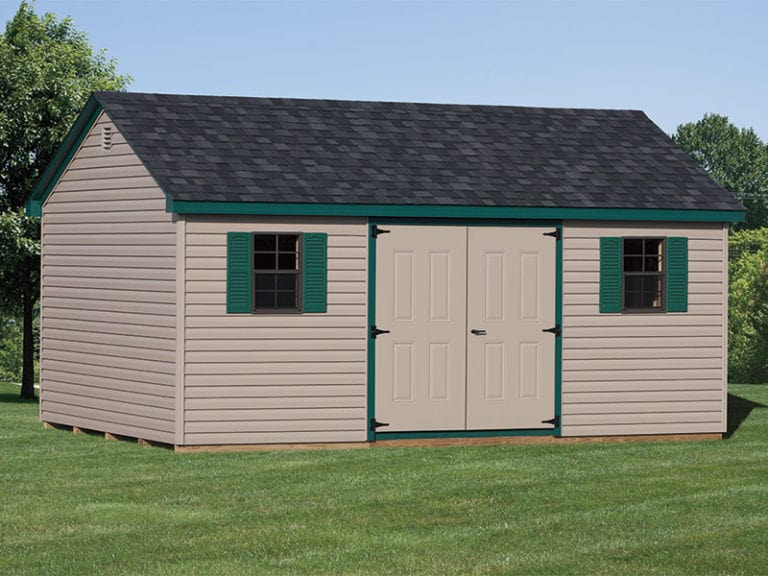 Cape Shed
Similar to the A-Frame and a majority of the Penn Dutch Structures' sheds, the Cape shed style will come with double entrance doors and at least one window with shutters. For sheds larger than 8' x 12', two windows will be included.
There are two different Cape shed styles, Cape and Cape Elite. The roof pitch is a key difference between these two styles. The Cape shed has a roof pitch of 7/12 whereas the Cape Elite style has a roof pitch of 8/12.
The type of shed is a classic shape and style that can either blend in with your existing landscape or become a bold statement in your backyard.
Carriage Shed
A carriage shed style is known to have an offset roof, similar to the Quaker style that we'll discuss later in this blog. The benefit of an offset roof is added headspace so again, larger tools and equipment can easily fit within this shed design.
On our carriage shed styles, the average roof pitch is 6.6 over 12. This means that the roof rises 6.6 inches for every 12 inches. Then, the steeper part of the roof is 7 over 12. You'll continue to see this roof pitch number in multiple shed styles and can use this same methodology for every style.
Chalet Shed
The Chalet shed designs are known for their high roof pitch, which is typically a 12 over 12. Because of this high roof, you can put a loft for extra storage or your chalet can be used as a detached garage with an overhead door.
At Penn Dutch Structures, your Chalet shed can be as small as 10' by 10' or as large as 14' by 40'. You'll want to find the perfect size that allows for maximized space for storage but doesn't overwhelm your exterior landscaping.
As a part of the customization process, you'll be able to choose siding and trim colors to match the rest of your landscaping and your home's style. You may also decide to add a flower box, ramp, or larger windows to further customize your structure.
Classic Shed
The Classic shed design is a timeless style that can blend into a variety of landscaping designs. This type of shed can be as small as 6' by 6' or as large as 14' by 40' which means you have flexibility so you can accommodate everything you need.
There are multiple types of shed roofs that you can choose from with the Classic shed design. Traditionally, there are two sides to your roof that meet to create a peak. With this type of shed, you have the option of choosing multiple peaks to create more dimension to your landscaping.
At Penn Dutch Structures, you also have the option to upgrade your shed to the New England Deluxe Wood Trim Package, which is 5 inches wider and available in 13 different colors. We also have add-ons of various styles of dormer packages.
Cottage Shed
The Cottage shed design has a much flatter roof than other types of sheds, with a roof pitch of 5/12, so it can blend seamlessly into your backyard's style. Just like a majority of Penn Dutch Structures' sheds, the smallest size is 6' by 6' so it can fit into a garden or you can choose our largest size of 14' by 32' that fits well in your backyard.
You can upgrade your Cottage shed with New England Deluxe Trim which offers a 5" wider trim and 13 different color options.
Barn Shed
Both the Dutch Barn sheds and the Mini Barn sheds showcase a unique style of shed compared to the rest of our products. If you like the aesthetic of a classic farm property but don't have the space for a large barn, this is the perfect type of shed for you.
These barn shed designs have a Gambrel barn-style roof which has four roof panels instead of two. These extra panels allow for more space and are ideal for tractors and large equipment to safely fit in the shed.
Typically, Dutch Barn sheds come with a 6' or 6' 6" high side wall. You can opt to include the Wide Trim Package and add a loft to your Dutch Barn for additional storage space. This add-on is optional and can be fully customizable to match your needs.
Mini Barn sheds, which have a 4' high side wall, are the ideal size for small storage spaces that can hold basic gardening tools or equipment. They come with double entrance doors so there's plenty of space to navigate a lawn mower or smaller tractor.
Villa Shed
The villa shed design is a modern shed and one of our newest designs from Penn Dutch Structures. This shed allows you to store your equipment in style, or have a space to do some of your favorite hobbies.
This type of shed roof is different from the others and is a Hip roof with four sides, unlike the traditional Gable roof, which only has two sides. The roof pitch is measured at 7/12.
These sheds can also be made large enough to include an overhead garage door that can be upgraded with a ramp for easy access for your mower or small tractor.
Quaker Shed
The final type of shed Penn Dutch Structures offers is a Quaker shed. This style has a roof overhang which provides a layer of shade and protection to the exterior of your shed. The higher front side is 7' and the back side measures to 6'. These roof styles are great for flower boxes hanging out the window and make for a grand statement for your landscaping.
The Quaker shed can be upgraded to include transom windows which are windows that are on the doors. They come in a variety of styles and are used to let in more light into your shed. This is a great choice if you're using your shed to store plants or are using the shed as a creative art studio.
---
Customize Your New Shed
Ready to revamp your outdoor space? Reach out to our team today!