Log Cabin Maintenance Checklist
There's a lot that goes into choosing and building a log home, and the same can be said for maintaining it. Like any structure, it requires some routine care to stay in good shape. However, maintaining log cabins looks very different from other types of housing. Below we'll take a look at tips for log cabin maintenance so you can keep yours as good as new. We'll also provide a helpful log cabin maintenance checklist you can use to make routine care easier.
Skip Ahead:
Log Cabin Maintenance Issues
& Ways To Solve Them
Since a log home is made entirely of wood, there can be some unique challenges in comparison to vinyl or metal siding. Below are the top three common log home maintenance issues owners face along with some tips on how you can combat them.
Moisture Damage
It's a well-known fact that wood doesn't handle moisture very well if it's exposed for a long time. Wood absorbs the surrounding moisture and if left untreated, it can grow mold or mildew and eventually rot.
Your log home is designed to handle rain. However, if you don't keep up with certain maintenance practices, you may unknowingly allow moisture to start collecting on parts of your home's exterior.
The Fix:
If you have a garden surrounding your home, it's important to plant your flowers and shrubs away from the sides. Plants naturally retain moisture which is good for them, but bad if they're planted directly against the side of your wooden home.
You should also make sure that you've built up topsoil around your foundation, so it helps drain water away. Even if you've already done this before, the soil will settle over time. So it's a good idea to monitor if you have enough topsoil placed around your home's foundation.
Lastly, just like a regular house, you should always add in sealing where necessary and take time to clean your rain gutters of any debris. If you let cracks or old seals go, you risk expensive repairs down the road. And when rain gutters stop working, they allow moisture to just sit next to your home, wreaking havoc on your siding.
Insect & Animal Issues
You may like having a wood home, but plenty of insects and animals like your wood home too. A handful of pests look for dead or rotten wood to eat or nest inside.
If you see beetles, termites, carpenter ants, or carpenter bees, it's important to act quickly so they don't weaken support beams and other structural components.
Additionally, you may find that woodpeckers are attracted to your log home's siding. While it can be exciting to see a woodpecker in the wild pecking a hole into a tree, it's not a thrilling sight on the side of your house.
The Fix:
Always keep dead or rotting wood away from your home, especially any fallen debris. Also, opt for stone or rubber mulch for your garden. If you ever notice increased ant activity or spot carpenter bees hanging around, invest in products from your local hardware store, or hire a professional to make sure they're exterminated immediately.
As for birds, there are lots of methods to keep woodpeckers away from your home. However, one of the easiest and most effective solutions is to install reflective tape or reflective streamers to scare birds away from your exterior. Additionally, if you have bird feeders, set them up away from your home.
Sunlight Damage
Over time, UV rays from the sun can cause serious damage to wood apart from just discoloration. The rays begin breaking down wood fibers, potentially causing the wood to crack or warp. This is where practicing good log home maintenance can make a huge difference in how long your structure lasts.
The Fix:
If your wood siding looks faded, it's time to update the stain on your exterior. The right type of stain won't just refresh the color of your home. It will also finish the wood and safeguard it from mold, mildew, rot, and more. This is one area of log home maintenance you won't want to skimp on, so make sure to choose a reliable log home wood stain that offers good coverage.
Check out our blog on ways to create outdoor shade using plants and landscaping as a secondary way of reducing sun damage. Placing trees or shrubs strategically to absorb some of the UV rays can help your stain last longer between applications.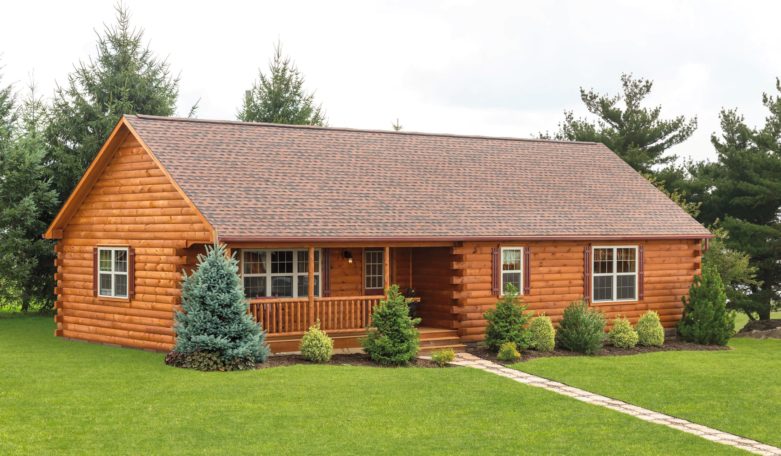 Log Cabin Maintenance Checklist
Caring for your log house is a lot easier if you help yourself get into a rhythm. To make your work easier, we've created this handy log cabin maintenance checklist you can use to ensure you don't miss any important maintenance steps.
Inspect your exterior every Spring and Fall for damage. Pay special attention to see if there are any holes, moisture issues, cracked seals, or insect damage. Then make a list you can use to address those problems.
Wash the cabin to clear it of dirt (focus on bottom logs). Use a mixture of water and wood-friendly detergent to wash your home. Avoid power-washing the logs since that can cause damage to the wood.

Stain your log cabin about every 3-4 years. Apply a good quality stain to protect your exterior from UV rays. Make sure to purchase a durable, high-quality stain that will provide lasting coverage.

Apply a sealer as needed or every 4 years. Check how the sealant (a type of caulk) is holding up in between the joints and gaps of the logs and around your windows and doors. Repair as necessary if you notice holes.

Clear out the gutters. Look inside your gutters and carefully clean out debris, leaves, and other buildup, so they can continue to properly funnel moisture away from your siding.

Take care of any other repairs needed. Take care of any other fixes you noticed from your inspection. If you're not comfortable doing them yourself, contact a professional who can assist you with maintenance.
On average, it costs around $14,000 for log homeowners to replace wood siding. Simply using the checklist above to create a routine maintenance schedule can help you mitigate the costs of owning a log home. Plus, you can enjoy your beautiful home for many more years to come.
---
Want to Learn More About Log Homes?
Get in touch with our team of experts if you'd like to explore this type of structure or our available log home models.