Buying Guide to Horse Barn Styles
Whether you are a hobby farmer with one or two horses or you're running an equestrian property, buying a horse barn is essential. There is a lot of thought that goes into choosing a horse barn – everything from the perfect size and style for your horses to which materials to choose, and where to place the barn on your property.
After reading our buying guide on horse barn styles, you'll have the helpful information you need to make the right purchase for you and your horses.
Skip Ahead:
Step #1. Determine Your Horse Barn Size
The first question you'll need to ask yourself is how big should your barn be. Your horse barn dimensions will come down to the number of horses you own and how many horse stalls you require.
The average size of a horse is 15.2 hands, and any horse around this size should be in a stall at least 100 sq. ft. in size. The stall will need to be big enough so that your horse can stand up, turn around, and lie down.
Use the guidelines below to help you determine what size horse barn you should buy:
Average-sized horses (15 hands) do well in a 10' by 12' stall.
Taller breeds (16 hands) should be in a 12' by 12' stall.
Miniature horses or ponies (12 – 14 hands) are comfortable in an 8' by 10' stall.
For a run-in horse barn, without individual stalls, a 12' by 18' or 12' by 24' barn is usually appropriate for three average-sized horses.
When designing your barn, it is recommended to add two extra stalls and a little more space than you need, if your budget allows. This prepares you for potential growth if you ever need to board more horses in the future.
Step #2. Find the Right Place for Your Horse Barn
Where you plan to place the barn on your property is an important decision that should be determined before making a purchase. Consider the following as you're looking for the ideal location:
Choose an area of your property that drains properly. In heavy rain or snow, you don't want your barn area to turn into a swamp of stagnant water.
The area should have easy access to utilities. Since your horse barn may require electric or water hook-ups, you can save on your horse barn costs by choosing a location where these utilities already run through your property.
Place your barn closer to the road or driveways. A barn that is easily accessible from your driveway will make loading your horses into trailers a much simpler task.
Position your horse barn for adequate airflow. Find the direction of the prevailing wind on your property and then set your barn at a 45-degree angle from the wind. This allows for natural ventilation without creating a wind tunnel inside your barn.
Provide natural shade. Although many horse barn styles come with lean-to overhangs that can protect your horses from the elements, natural shade is also beneficial for keeping your animals comfortable.
Choose an area large enough for expansion. Your team of horses may be small now, but it could grow over time. It's wise to choose a location for your barn that has empty space around it to allow for any potential building expansion.
Preparing for Installation
Eventually, this area will need to be prepped for installation. This process is slightly more significant than prepping for a new shed or small barn, so we've outlined a few crucial steps below.
For our Modular and Lean-To barns, we recommend level concrete footers that help prevent the building from shifting unevenly when the ground goes through the cycle of freezing and thawing. Over time, these cycles will cause the ground level to change.
Penn Dutch Structures will provide a footer placement diagram for your specific horse barn dimensions that provides exact measurements and placements. Once installation is complete, the surrounding area can be backfilled with crushed stone or filled in with concrete.
You'll also want to anchor your horse barn by using a ¼" steel hurricane bracket. This bracket should be bolted to the concrete footer and to the 6 by 6 that makes up the base of your barn. This anchor system will be included with your Penn Dutch Structure barn order.
Since we don't offer site preparation, we frequently partner with BedRock SiteWorks who can help you with all your installation needs. This can make the process more efficient and cause less of a headache for you.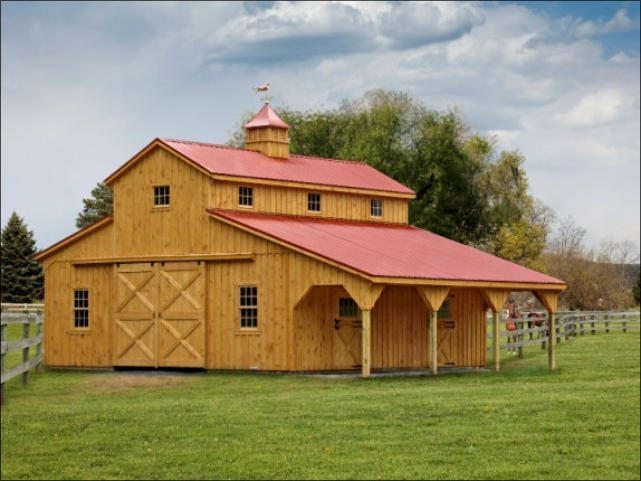 Step #3. Choose Your Horse Barn Style
Once you have a better understanding of how to choose your horse barn size and location, it's time to sift through the various styles that you can choose from. The style you choose should also depend on any other ways you plan to utilize your barn and the purpose of your space.
Below is a rundown of the benefits of each barn style.
Lean-To – Lean-to barns are recognized by their large front overhang. These barns provide shelter during excessive heat and inclement weather in unprotected pastures.
Monitor – Monitor barns are two-story barns that are designed to be very long and feature a distinct raised center. This raised area houses a second-story loft space.
Kennebec – Kennebec barns are also known as double-wide barns. They are center-aisle barns that feature two rows of stalls on opposite walls, separated by an enclosed center aisle.
High Country – High Country barns utilize a two-story design and feature a single-sided sloped roof. The second story includes a loft door which makes it easier to load hay.
Run-In – Run-in barns are covered structures where animals can find shade and relief from heat, rain, and even flies or pests. They feature a three-sided design with an open front.
Shed Row – Shed row barns offer space to house your horses and store other farm tools, equipment, or vehicles. In-line shed rows provide three horse stalls that open to the outside, with an enclosed shed space for storage. L-shape shed rows also include a tack room off to the side.
Two-story, raised lofts, and double-wide barns create a more versatile space and can be used as more than a home for your horses. Or you can choose something small and simple, like a stable barn, that is more budget-friendly and still durable and secure for your horses.
Step #4: Deciding Between a Wood or Metal Horse Barn
Wood and metal are both popular materials used in the construction of horse barns. Penn Dutch Structures sells wood horse barns that are constructed using white pine wood.
White pine is soft and easy to work with but, at the same time, has the strength necessary for framing construction. Pine timber can also be treated to be decay- and rot-resistant. Plus, pine is durable to withstand the wear and tear that is often necessary for outdoor structures.
When compared to horse barns constructed of steel, there are several benefits to buying a wood horse barn.
Wood is a natural insulator that allows for consistently comfortable temperatures inside your barn in the extremes of winter and summer.
Wood has absorption properties that minimize outside noises. This can be especially beneficial in reducing the noise of high winds and thunderstorms, which can rattle animals.
Softer woods, like pine, can withstand horse kicks without the potential of injury to the horse. On the other hand, metal may puncture upon the impact of the kick which could cut your horse or cause a limb to break.
Benefits of Having a Metal Roof
Although the benefits of having a wood barn outweigh the disadvantages, there are several reasons to choose a metal roof for your horse barn style.
A metal roof can be more durable against strong weather conditions and won't rot over time like a shingle roof might. This not only keeps your horses safe when a storm hits but also saves you money down the road with fewer repairs.
Penn Dutch Structures provides multiple different colors for your metal roof so you can create a cohesive look for your property.
Step #5. Choose Horse Barn Accessories
In addition to your horse barn stalls, there are other necessities and amenities that you may want to include in your barn.
Feed Storage – In many cases, you can have 2- or 3- compartment feed storage chests built into your barn design.
Tack Storage – Your tack items should have a dedicated space, away from feed storage. Saddle and harness cabinets can also be constructed right into the design of your barn.
Wash Room – Consider dedicating a single horse stall as a washroom. Design this stall to include concrete floors, rubber mats, drains, and an overhead sprayer.
Barn Fan – During Summer months, your horse barn can get stuffy and overheated easily. To combat this, incorporate barn fans to keep air flowing through the space.
Barn Lighting – In order to work in your horse barn anytime you want, you can add barn lighting to the space. Lighting features will also keep your horses more comfortable and content.
Step #6. Determine Your Budget
Horse barn costs will ultimately depend on the style and size you need. This being said, it can be hard to give an accurate general estimate. Smaller, run-in barns can start around $2,500 while a larger, two-story Monitor barn could start at around $30,000.
A few ways you can save when buying a horse barn include:
Choose a modular design – Modular barns are built off-site, in sections, and then delivered and assembled on your property. Because of the efficiency of that process, the horse barn costs are lower for you.
Consider a one-story barn – A second story will add material and labor costs. Shed row barns and lean-to barns are great one-story options to explore.
Limit the number of horse stalls – Although you want to plan for future expansion, you should also be realistic and only include the number of stalls you're certain you will use.
Now that you have a better understanding of the different horse barn styles and finding your best option, you can be more confident about your purchasing decision moving forward. Once your horse barn is built or installed, it's essential to take the necessary steps to get your horses comfortable in the new space.
---
Have Specific Questions About Your New Horse Barn?
The Penn Dutch Structures team can give you specific answers to your questions like what size is best for you and a customized quote.
This blog was originally published on March 25th, 2019, and was updated on February 28th, 2023.